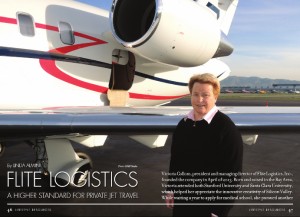 Flite Logistics, Inc. is featured in the Summer/Fall 2014 edition of Lifestyle Resources Magazine! In Linda Almini's article "Flite Logistics – A Higher Standard for Private Jet Travel", you'll learn more about our President Victoria Collom, Flite Logistics' commitment to our customers and their safety, and about Private Jet Travel.
To view a copy of the entire Summer/Fall 2014 edition online, please click here.

Please click here to download a high resolution pdf copy of the article.